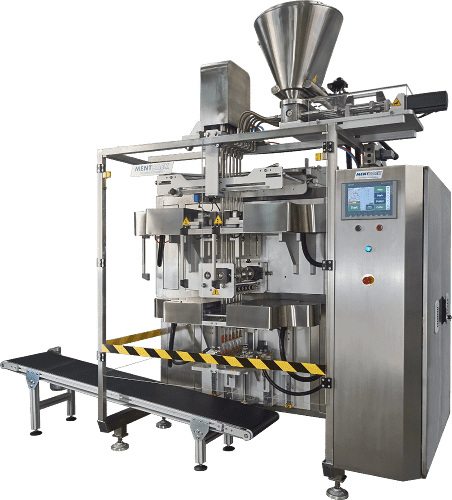 Intermittent motion is the best choice in liquid sachet packing machines. The in house manufactured liquid filler and nozzles are capable to fill between 1cps to 65.000cps in +/-%2 accuracy. Our machines are in service to fill and pack Ketchup, oil, mayonnaise, tomato sauces, paste, cream chocolate, pharma and cosmetic liquids, and CBD oil. Design simplicity improves a faster learning curve for operators.
Depending on the requested output speed, we can offer two different technology options that can able to pack 30-35 cycles/minute and 80-90 cycles/minute with motion controlling technology for mass manufacturer companies.
Thanks to the non-drip shut-off nozzles, sealing area contamination will not be happening and machines will always produce non-leaking liquid sachets. With more than a decade of R&D and field experience, the cutting edge gasket technology of the pump will be long lasting and trustable. A lifetime of gasket set in the plungers lasts up to 30 days at 3 shift running. Result of that, gasket changeover time is shorter. CIP-Ready (without self water pump and tank) or CIP Cleaning (with water pump and tank) options provide comfort and shorter cleaning time.
Above all, remote connections are free of charge for customer comfort and to reduce downtimes. Premium component quality always keeps the machine up and running. 1200mm film is the maximum web width.
think "simple" features of liquid sachet packing machine
Vertical sealers are opened wide for easy cleaning automatically.
Film roll changeover is toolless for ease of use.
Gaskets changeover of Shut-off nozzles can be done without removing the nozzle.
What are my advantages?
Widely opening vertical sealers for easy cleaning
Unique extended life knife design
All motions fully synchronized with the speed
Absence of sachet burning when stopped
Easy and precise sealing pressure adjustment
Bespoke sealing shapes
Bespoke sachet shapes
Vertical perforation
Horizontal perforation
Tear notch
User-friendly controls
Worldwide branded components
Spare parts catalogue
10 years plc & hmi software warranty
I/O test manual facility
Servo motor liquid pump (0.01mm precision – 100mm/sec speed)
Maximum volume precision in a single piece actuator
Food grade quick release fittings
Teflon tubes
Actuator heating on double-jacket filling system
What can I pack?
Ketchup
Mayonnaise
Mustard
Honey
Pomegranate sauce
Shampoo
Hair Gel
Gel Soap
Cream Chocolate
How fast I am?
Ketchup: 70 cycle
Mayonnaise: 60 cycle
Mustard: 60 cycle
Honey: 35 cycle
Pomegranate sauce: 70 cycle
Shampoo: 55 cycle
Hair gel: 60 cycle
Liquid soap: 55 cycle
Technical details
Min. pack width : 40mm.
Max. pack width: 150mm.
Min. pack length: 50mm.
Max. pack length: 180mm.
Max. roll width : 1000mm.
Energy consumption : 3,5 kW/h
Air pressure : 6-8 Bar
Air consumption : 250 liter/min.
Electricity : 3P+N+PE 220 VAC/110VAC
Weight: 1000kg
* Above information can vary according to product type, project details and special occasions.