exhibition
PACK EXPO LAS VEGAS 2023
We are happy to see you on our booth at C-4828
dry yeast
COMPLETE PACKAGING SOLUTIONS
Specifically designed for combined packaging lines including primary packaging, counting/stacking and secondary packaging
12 lines liquid stickpack
BEST-FIT FOR MASS MANUFACTURERS
From 3 lines, up to 12 lines liquid packaging machines. Chosen and trusted by Industry leaders. One-stop liquid packaging machine supplier from boutique sauce manufacturing up to mass manufacturing.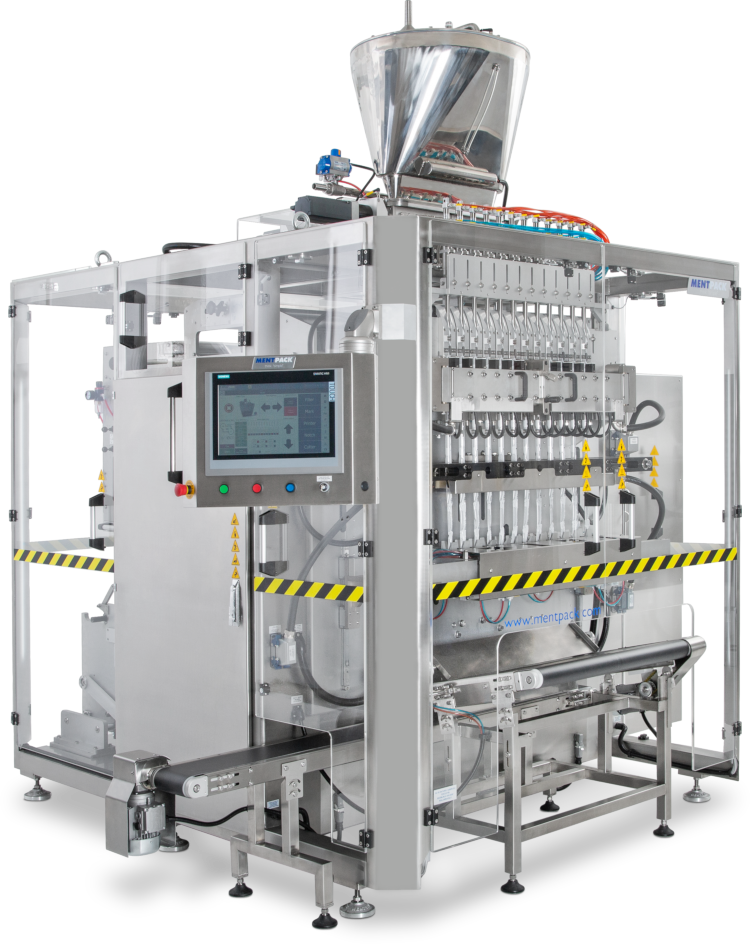 liquid sachet machine
THE ULTIMATE PERFORMANCE
Liquid applications always need specific solutions as every factory has a different processing system. We configure and manufacture each machine after understanding your needs.
stick pack auger
SIMPLICITY NEVER BEEN SO EASY
With the power of 25 years packaging machinery engineering experience brought operator comfort to the cutting edge level on our latest open frame stick pack machine architecture
ice pole packaging
THE FIELD CHALLANGER
On-line multi flavor aroma injection and turn key secondary packaging systems provided from single hand
stick pack former
AIMED TO BE STATE OF THE ART
Exploring new ways brought us to undiscovered horizons in packaging machines manufacturing journey.
Welcome to Mentpack
A global player in the packaging industry. Founded in 1996, we have over 25 years of experience in providing innovative and high-quality packaging solutions.
Our mission is to simplify complexity. We design our machines with a focus on simplicity, ensuring that our customers can easily operate and maintain their equipment. We are committed to delivering top-quality products and services that meet the evolving needs of the market.
We offer a wide range of products, including Stick Pack, Sachet Machines, and Vertical Form Fill Seal packaging machines. Our ability to cater to both entry-level and worldwide brands has positioned us as a preferred solution partner for packaging challenges.
We use the latest technology in design and production techniques to enhance the quality of our products. Our in-house parts manufacturing and software development enable us to improve the efficiency of our packaging machines.

We pride ourselves on our high-quality after-sales service. Our machines are described as "workhorses" that require minimal preventative maintenance. This reliability, coupled with the availability of spare parts, helps to minimize production downtime.
Over the past few years, Mentpack has emerged as a global leader, earning recognition for its innovative solutions and commitment to quality. Our success story serves as an inspiration for other businesses and a reminder that with hard work, innovation, and a customer-centric approach, it is possible to achieve global recognition.

Thank you for visiting our website. We look forward to serving you.
Welcome to Mentpack
A global player in the packaging industry. Founded in 1996, we have over 25 years of experience in providing innovative and high-quality packaging solutions.

Our Customers
Mentpack custom-made a machine that we needed to produce a unique concept product. The team behind Mentpack gave their own suggestions to make the machine even more efficient. We're happy to buy from them! They also have good aftersales service which is one of the factors why we decided to work with them. We highly recommend working with Mentpack for those looking for a professional, high-quality after-sales.
Since our initial purchase of a single lane VFFM Mentpack has been very supportive when it came to the purchase as well as the initial setup of the machine. We are a startup company that is always modifying our equipment and processes while maintaining and elevating quality. Since our initial purchase, we have since acquired 2- 4 lane fillers, 2- 5 lane fillers, as well as a bigger 10 lane unit. At every purchase, Mentpack has made a tremendous effort to upgrade their machines. I can tell that they take their processes seriously and strive to improve on a regular basis. The machines themselves are complete workhorses needing very little preventative maintenance. Most spare parts can be sourced locally keeping production downtime to a minimum. As far as customer service goes, I have always been able to reach out to multiple members of Mentpacks team to resolve any issues I may be having. Even with a significant time difference, they always seem to make themselves available for a call.
We brought a 4 lane icepole packaging machine from Mentpack. They worked through all our needs and were amazing at helping us out for information, support and customer service. Can't recommend them highly enough. The process ran very smoothly. Thanks Mentpack.
MJS Packaging Services Ltd has been the distributor for Mentpack for a number of years now with numerous machines supplied to the UK and other parts of the world.
Packaging Machine Blog
We are excited to announce the launch of our new pharma grade packaging machines, designed to meet t…