Fully high-end types of equipment used on our VFFS has from 50 grams to 5000 grams filling capacity. Vacuum puller belts, servo-driven horizontal sealers, puller belts reach up to 80 bags per minute speed. As a result of thinking "simple" on engineering, toolless forming unit changeover, toolless vertical sealer adjustment and toolless film changeover are some of the features of our vertical form fill and seal packaging machine.
Fully synchronized servo-driven volumetric filler has 80 fills capacity at 1000gram product filling.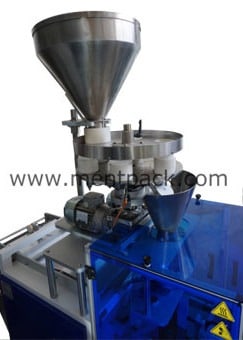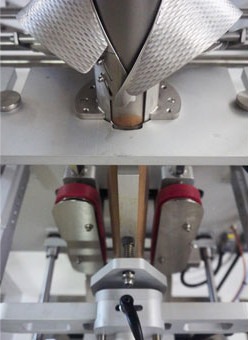 What are my advantages?
Servo driven transport belt
Pneumatic driven horizontal sealer
Toolless vertical sealer adjustment
Toolless film changeover
Automatic film unwinder
Easy mark sensor adjustment
Motor-driven film tracking
The multi-program save and load function
HMI mounted on swivel arm
User-friendly controls
Worldwide branded components
Compact design
Reduced energy consumption
Spare parts catalogue
10 years plc & hmi software warranty
I/O test manual facility
Auto synchronisation granule filler to machine speed
Weight changes from HMI
What can I pack?
Granulated sugar
Salt
Nuts
Legumes
How fast I am?
Granulated sugar: 45 cycle
Salt: 60 cycle
Nuts: 55 cycle
Legumes: 45 cycle
Technical details
Min. pack width : 80mm.
Max. pack width: 370mm.
Min. pack length: 10mm.
Max. pack length: 450mm.
Max. roll width : 1000mm.
Energy consumption : 2,5 kW/h
Air pressure : 6-8 Bar
Air consumption : 250 liter/min.
Electricity : 3P+N+PE 220 VAC/110VAC
Weight: 1200kg
* Above information can vary according to product type, project details and special occasions.