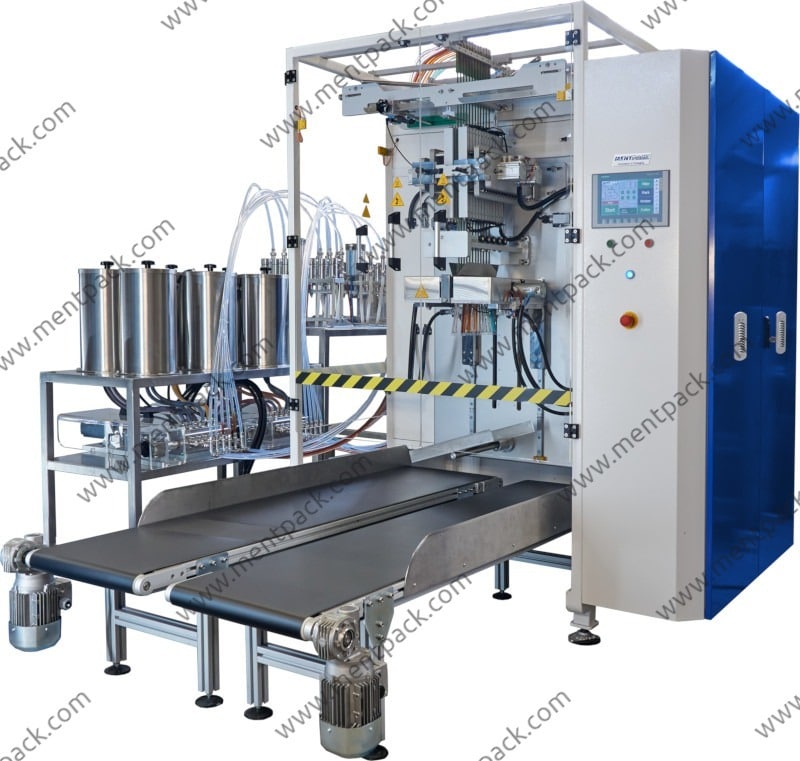 Mentpack is the leading ice pop machines & production lines manufacturer worldwide. Basically, supplying from an ice pop filling and sealing machine to a turnkey solution makes Mentpack is a complete solution provider. Additionally, Mentpack supplies formulation of ice pop, packaging films and ingredients are available.
Different flavours at a time on a multi-lane packaging machine is not a problem any more with our filling solutions. We supply flavour tanks for each line to fill different variations on a single packaging machine. In addition to this, we can also supply aroma injection and base syrup liquid filling separately and mixing the liquid inside ice pop packages.
Our Services;
Ice Pop Filling Machine (Sachet & Stick Pack & Twin Sachet)
Single ice pop packaging machine is available in four-side sealed sachet and three sides sealed stick pack form. We have machines from 4 lines to 12 lines for both packaging types.
So, This is for the companies which have their own liquid preparation tanks and production systems.
Ice Pop Manufacturing Turnkey Solution
Mentpack provides all necessary types of equipment for your production facility needs. We can supply preparation tanks, packaging machine, air compressor, water treatment system and their commissioning procedures. Eventually, our technical experts are ready to study your project to customize turnkey solution options. The system is fully automated and controlled by HMI Panel on the packaging machine. That controls preparation tanks' steps and online monitoring during the production.
Consulting for Ice Pop Production
With a lot of experiences on Ice Pop production and packaging, Mentpack is not only your machinery provider but also consulting your product development by recipes, ingredients, designs, film and other packaging products supply.
Recipe Service: We can formulate your recipe based on a budget or similarity of product that exists in the market currently. It's free of charge service if we supply ingredients.
Ingredient Supply: We supply high-quality ingredients with necessary certifications.
Design: Our designers are highly experienced in food packaging design. So, your packaging design creation will be uniquely done for your brand.
Packaging Film: We are supplying most of our customers with our proven quality PET+PE ice pop films.
What are my advantages?
Online aroma injection pump option
Traversing system for CIJ Printing
Widely opening vertical sealers for easy cleaning
Unique extended life knife design
All motions fully synchronized with the speed
Absence of sachet burning when stopped
Easy and precise sealing pressure adjustment
Bespoke sealing shapes
Vertical perforation
Horizontal perforation
User-friendly controls
Worldwide branded components
Spare parts catalogue
10 years plc & hmi software warranty
I/O test manual facility
Servo motor liquid pump (0.01mm precision – 100mm/sec speed)
Maximum volume precision in a single piece actuator
Food grade quick release fittings
Teflon tubes
Actuator heating on double-jacket filling system
Tear notch
What can I pack?
Ice pop
Ice pole
Twin ice pop
Twin ice pole
How fast I am?
30 cycle (basic pump)
55 cycle (servo tandem pump)
Technical details
Min. pack width : 30mm.
Max. pack width: 55mm.
Min. pack length: 50mm.
Max. pack length: 180mm.
Max. roll width : 1000mm.
Energy consumption : 2,5 kW/h
Air pressure : 6-8 Bar
Air consumption : 550 liter/min.
Electricity : 3P+N+PE 220 VAC/110VAC
Weight: 1200kg
* Above information can vary according to product type, project details and special occasions.