Artistick-V is a powder filler entry level stick pack machine with auger filler for packaging applications that requires less than 100 pack/minute output speed. It's able to fill non-free flowing and semi-free flowing products such as spices, 3in1 coffee, cosmetic powder, powdered coffee, supplement powder, chemical powder products into stick packs up to 3 lines with minimum 23mm width. The machine is able to fit into small production rooms with its very small sizes even in height.
Artistick has efficiency and really small size that makes easy to operate. To get the highest filling accuracy, individual servo motors are operating each auger screws allows different dosing adjustments. Tool-less auger changeover design reducing cleaning process. Premium brands in components are used as a standard in all Mentpack machines.
Maximum web width is 210mm and it has up to 45-50 cycles/minute speed maximum.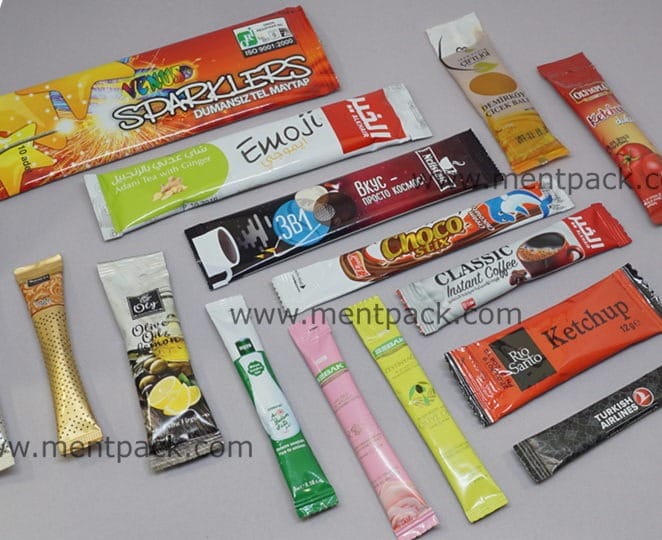 What are my advantages?
Widely opening vertical sealers for easy cleaning
Unique extended life knife design
All motions fully synchronized with the speed
Absence of sachet burning when stopped
Easy and precise sealing pressure adjustment
Bespoke sealing shapes
Bespoke sachet shapes
Vertical perforation
Horizontal perforation
Tear notch
User-friendly controls
Worldwide branded components
Spare parts catalogue
10 years plc & hmi software warranty
I/O test manual facility
Servo motor liquid pump (0.01mm precision – 100mm/sec speed)
Maximum volume precision in a single piece actuator
Food grade quick release fittings
Teflon tubes
Actuator heating on double-jacket filling system
What can I pack?
Cacao powder
3in1 coffee
Powder coffee
Spices
Vanilla
Icing sugar
How fast I am?
Cacao powder: 35 cycle
3 in 1 coffee: 35 cycle
Powder coffee: 20 cycle
Spices: 25 cycle
Vanilla: 25 cycle
Icing sugar: 40 cycle
Technical details
Min. pack width : 25mm.
Max. pack width : 55mm.
Min. pack length : 50mm.
Max. pack length : 160mm.
Energy consumption : 2,5 kW/h
Air pressure : 6-8 Bar
Air consumption : 350 liter/min.
Electricity : 3P+N+PE 220 VAC/110VAC
Weight : 650 kg.
* Above information can vary according to product type, project details and special occasions.