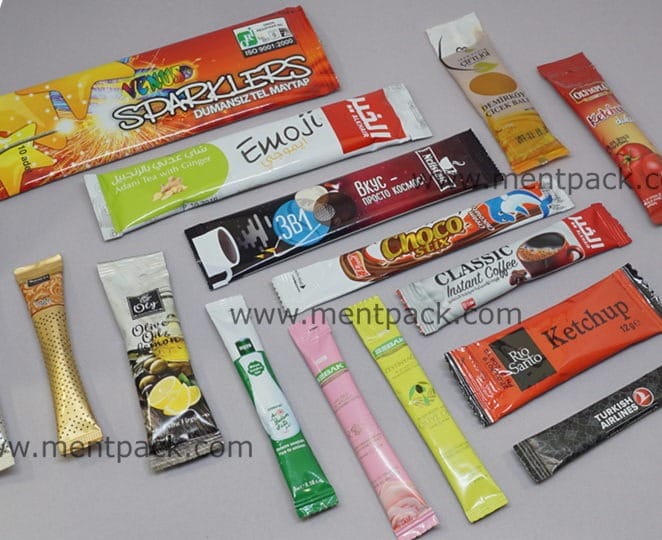 Since 1996, Mentpack Packaging Machines has been producing stick pack machines. Over 20 years of experience in stick pack machines manufacturing, Mentpack developed its own designs for different stick pack applications.
By producing high-end technology and entry-level machine series, Mentpack easily finds a solution to its customers for their stick pack application needs. Up to 10 lines for high capacities with necessary fillers like multilane auger filler for powder products, multilane liquid pump fillers for liquid products and rotary fillers for any type of granule products give you the best solution for stick pack applications.
Entry Level Stick Pack Machines
Not sure which way to go?
We have divided stickpack machine series as high-tech models and entry level. High-tech models are best-fit for food or pharmaceutical mass manufacturers. If you are looking for a stick pack machine for boutique manufacturer, then entry level stick packaging machine will be the right choice for you. Thanks to the wide range of stick packaging portfolio of Mentpack, we are pretty sure that we can find a stick packaging machine for your needs.
Which filler has to be chosen for the stick pack machine?
For packaging out-of-the-box products, it is better to be in collaboration with our sales engineers. The products that can fit in liquid, powder or granule category we are able to provide common filling unit solutions for stick pack machines.
Liquid filler
Mentpack in-house made plunger pumps can fill up to 80.000cps (for example peanut butter). Thanks to the non-drip nozzles coming as standard, sealing area contamination will not be happening. Example products that are possible to fill and pack: Ketchup, Olive oil, Mayonnaise, Water, Peanut butter, Dairy products, Processed Cheese, Anti-bacterial hand sanitizer etc. Besides of this filling unit, C.I.P. (clean in place) system and double-jacket tank heater are the common options that are demanded.
Auger filler
We like to install more agitators in the hopper than you need. Extra agitators in hopper might be a lifesaver when the powder product's composition changed. Dust collector or another saying dust extraction is also demanded with the auger filling unit. Besides all these extras, automatic product feeder has to be with the machine. An automatic feeder will keep the product level constant and this is the key factor to run in an accurate way with auger fillers. Example products are pharmaceutical powders, baking powder, 3in1 coffee, whey protein powder.
Granule filler
Mentpack always providing a closed rotary granule filler for granule products. Granules are getting grinded when the volumetric cups shaft is moving. Not like linear granule feeders, rotary granule feeders send that grinded product inside to the filling funnel and keep the environment clean as possible. Example products for granules are sugar, yeast, salt, pharmaceutical granules.