Why Intermittent Sachet Packaging Machines For Liquid Applications
A general understanding of intermittent sachet packaging machine also known as sachet packet packing machine in packaging machine industry is for slower production capacity, low engineering, and basic applications. That was true before but everything is changed with today's technology. The main disadvantage of intermittent motion in the past to make motions on the machine was not possible to stop and start very fast and accurate.
Today, controlling motions by servo motors and high-speed PLCs with automatic synchronization. Ability after the first configuration makes all problems in the past easier and faster. Besides the complicated mechanics' solutions become very simple and faster. Another benefit of motion controlling technology brings maintenance and downtime periods lower. Because problems can be diagnosed electronically via the internet even if the machine is located in another part of the world or by the simply designed mechanics can be diagnosed and fixed by average technicians without any needs to expertise.
Some benefits explained above are general for intermittent motion sachet filling machines and more specific advantages on liquid sachet applications listed below.
Speed: Adjustable speed of different motions on the machine is the main key to achieve higher capacities. The speed of filling liquids into sachets is the most important step to get sachet without any leakage and faults. So it can't be very fast as other motions. Keeping the speed of this step at the highest and adjusting other steps' speed. At the highest needs different speeds on each step of the machine running. As a basic example, pulling film time, sealing time can be much faster than filling speed. So gaining time on some steps give chance to make slow-speed needed steps. This is not possible to make on continuous motion sachet packet packing machine. So Mentpack offers intermittent motion for liquid filling applications.
Easy Synchronization: As all the motions programmed as factory settings, running the machine at any capacity does not change the synchronization, so there is no additional adjustment needed.
Higher Capacity: Intermittent motions can reach up to 100 dry cycles and 80-85 filling cycles which is not possible to reach by continuous motion machines. Because the main step to get faster running of continuous motion to pull down the film. The filling step needs to reach the same speed of pulling film but the main problem starts here. As the film motion never stops on continuous motion sachet machines, the filling step can't reach the same speed of film motion. So the machine needs to wait filling step to be done and it blocks the machine speed at low. Otherwise, leaking, sealing problems, etc. occur on continuous motion sachet filling machines.
How do we know both intermittent and continuous motion sachet machines?
Mentpack is a unique packaging machinery company that makes both continuous motion and intermittent motion machines for over 25 years. Hundreds of sachet application experiences create the result naturally after 25 years. As we do both types. The intermittent motion sachet machine is a perfect solution for any type of liquid application so far. Continuous motion is a perfect solution for dry product applications.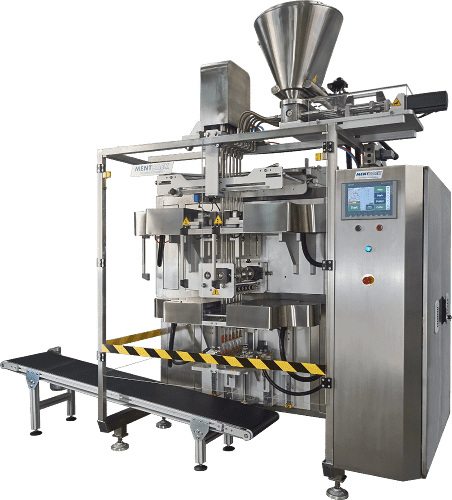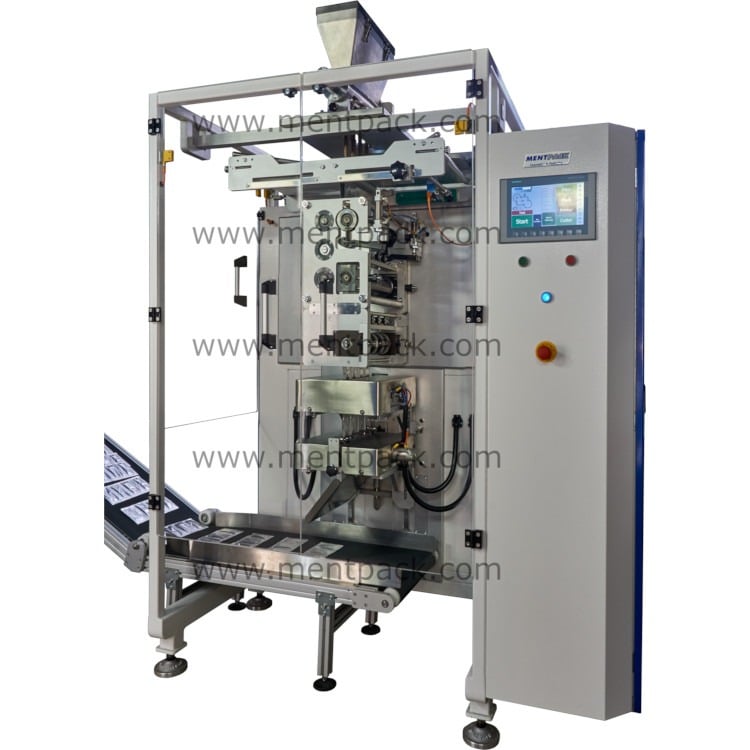 think "simple" Features of Intermittent Sachet Packet Packaging Machines
As using think "simple" philosophy of Mentpack's all other machines, there is some additional simplicity on intermittent sachet machines as well.
Near-zero mechanic: Mentpack's liquid sachet machines do not require an expert level experienced mechanical technician because our intermittent liquid sachet machine doesn't have mechanics inside of the machine. All the motions drives are servo motors with linear guides that programmed as factory settings. Technicians need to adjust basic things depends on their specific application needs like sealing time, filling delays, the pressure of sealers, etc.
Technical Support: 90% electronically diagnosed for possible downtime by VPN connection. Mentpack's technical support team connects to your machine without time/location problems and diagnosing your problems successfully.
Low Spare Parts Consumption: All the above benefits of our liquid sachet filling machine bring less spare parts consumptions. As there is no heavy mechanicals, the machine never needs expensive, heavy, time taking spare parts at all. Basic consumption spare parts with fast delivery from in-stock, low price, and long time usage are the only needed spare parts.
Bespoke modifications for each customer's needs
The most important advantage to choose Mentpack's intermittent sachet filling machines is the flexibility of manufacturing for customer's specific needs.
Liquid applications always need specific solutions as every factory has a different processing system. Mentpack configures and manufactures each machine after understanding the customers.