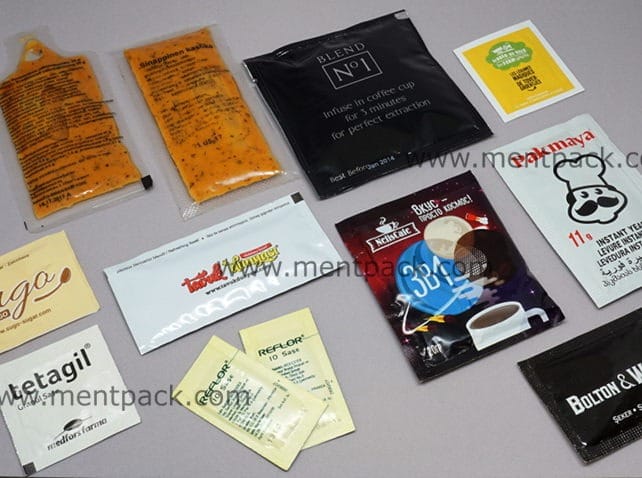 Since 1996, Mentpack Packaging Machines has been producing sachet packaging machines. Over 20 years of experience in sachet packaging machines manufacturing, Mentpack developed its own designs for different sachet applications.
By producing vertical continuous motion sachet machines, vertical intermittent sachet machines and horizontal sachet packaging machines, Mentpack easily finds a solution to its customers for their sachet application needs. Up to 10 lines for high capacities with necessary fillers like multilane auger filler for powder products, multilane liquid pump fillers for liquid products and rotary fillers for any type of granule products give you the best solution for sachet applications.
---
Packaging Lines
---
Horizontal Sachet Packaging Machines
---
Tailor-Made Packaging Machines
Need help?
If you are having trouble to select the right sachet packaging machine, our sales responsible will be happy to assist you. Some applications require additionals -dust collector for powder filling machines for example-, our sales responsible will share information with you regarding your product. Or you may read the following explanations for selecting your own product. We are sure that Mentpack can find best sachet packaging machine for your needs.
First things first: Vertical or Horizontal?
I need over 200 packs/minute output speed
Vertical sachet machine is the right choice
I need variable package length
Both vertical and horizontal has adjustable package length
I need variable package width
Horizontal is the right choice
Sealing pattern must be perfect cosmetic looking
Because of multi-line filling and sealing, the film is slightly shrinking on vertical sachet machines. This is why we recommend horizontal sachet machines when cosmetic looking is demanded
I'm in trouble with liquid sachet sealing are contamination and leaking issue
This is not about vertical or horizontal working logic. The problem is existing machine's pump system.
I need die-cut sachet shape
Both vertical and horizontal can make die-cut sachets
---
Liquid sachet packaging machine
The machine has multi-line plunger pump and fills liquid into four side sealed sachet packages. Commonly demanded features are CIP (clean-in-place), traversing system for expiry date ink-jet printer and stainless steel machine frame. Thanks to the liquid expertise, Mentpack has in-house technology of non-drip nozzles, long-lasting food grade gaskets that make our liquid sachet machines trustable in the food and pharma companies.
Granule filler sachet packaging machine
It is a sachet machine that has rotary cups filling unit. With the gravity, free-flowing granules will fill inside rotary cups, then the machine dumps inside filler funnels. This filling technique works with pharmaceutical granules, sugar, yeast kind of products.
Auger filler sachet packaging machine
When it comes to filling semi free-flowing and non free-flowing powders, auger filler is a conventional solution for both sachet and stick pack machines. Like all powder fillers, automatic feeding from ground is a must to catch perfect harmony in the auger hopper.
Wet tissue sachet packaging machine
Tissues can be tri-fold or two-fold, tissue length and package dimensions are flexible. With its features, machine comes as a wet tissue manufacturing factory. Pump can fill both anti-bacterial alcohol based liquids or perfume based liquids. As long as the liquid is not viscous (less then 5.000cps), the machine will answer all your needs in alcohol swab packaging.
Horizontal sachet packaging machine
Simplex or Duplex selection possibility regarding your target output speed. Simplex horizontal sachet machine's output is a single sachet per machine cycle, Duplex makes two in each cycle which makes Duplex model faster. We also have solutions for doypacks and spout bags.
Ice pop packaging machines
Not just a packaging machine, we are also providing mixing/transferring tanks connected to the packaging machine as a compact set. On-line expiry date coding, secondary packaging with flow wrapper machine are additions that we have done. Mentpack's aim to be the one stop solution partner in Ice pop manfacturing.
Packaging lines
The most advanced packaging solution for mass manufacturing companies. Secondary packaging consumes lots of human effort and it might be the time hire an Industry 4.0 compatible packaging line can handle primary packaging and secondary packaging.