Companies are racing for more production with less downtime in today's world. The main cost is time that spent on manufacturing and packing of the product. So the machines must have some features to keep downtime at the lowest level. Mentpack designs all its packaging machines with – think "simple" – philosophy. This philosophy brings Mentpack's packaging machine to the front lines in decision makers' mind. Every packaging machine manufacturer focuses on faster and much faster running. However, there is an important point to keep the average capacity of the powder stick pack machine is downtime.
Downtime is the period that stays at off for some reasons such as product changeover, cleaning, dimensions or filling weight changeover, etc. This downtime is so important for manufacturers even how fast packaging machine they have.
Time-saving is cost saving when it comes to powder stick pack machine
Mentpack manufactures its packaging machines to keep downtime at a minimum and less tool/technician needs. So even the operator can make some changes, cleaning or adjustments without the need for tools or technicians.
Especially for more complicated packaging machines like powder stick pack machines which are mainly used for coffee packaging, etc. Different flavours and blends need product changeover, cleaning, new adjustments for a new batch of coffee.
Mentpack keeps all these process and more easier. Coffee stickpack filling needs proper cleaning as first.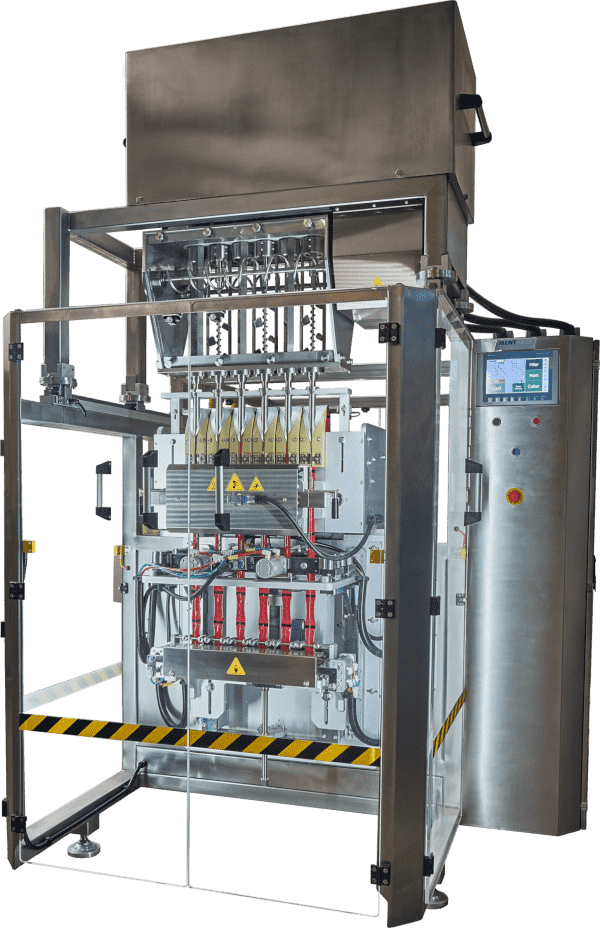 • Fully transparent front panel of the hopper allows you to see agitating of coffee powder, to see the level of coffee powder. Besides, this fully transparent front panel can be dismantled with few screws to reach inside of the hopper of auger filler.
• Each auger filler screws of coffee stickpack machine can be taken out without any tool needed.
• Whole auger filler of coffee stickpack machine can be slided for taking auger filler screws out from filling pipes.
• Individual servo motors directly connected to auger filler screws to keep each line of powder stick pack machine consistent.
Not only easy features of filling unit but also coffee packaging machine has some unique features.
• 180° rotating vertical sealer of stickpack machine for easy cleaning and/or maintenance
• Tandem (two positionings) running of vertical sealer not to burn or melt of the film by staying closer during OFF mode of coffee stick pack machine
• Slicer blades change of stickpack powder filling is just by hand without any tools needed.
• Patented techno-polymer stickpack former keeps the machine height at least 40cm shorter than others' coffee stick pack machines.
• Horizontal sealing bars of stickpack machines can be dismantled by 4 screws and an electrical jack for maintenance.
All above ease of use features and many more are available on our packaging machines. Especially for powder stick pack machines have the best and fast solutions that others do not have.