101S is a stick pack machine with granular filler for medium size capacity applications. It's able to fill free-flowing granule products such as salt, sugar, THC, nutritional supplements into stick packs up to 8 lines with minimum 17mm width.
It's an upgraded stick pack machine to do easy adjustments and automatic controlling systems for continuous production needs. Also with its unique open frame design helps to operate 101S much easier ever so far. Closed rotary volumetric filling unit provides one knob weight adjustment possibility. Fully SS316L materials that are touching to the product, besides reduced sharp edges decreasing product contamination possibility.
Free of charge remote connection for lifetime is the biggest reason to choose Mentpack as your packaging machine partner. Our stick pack machine has web width is 320 mm. maximum and up to 60-65 cycles/minute speed.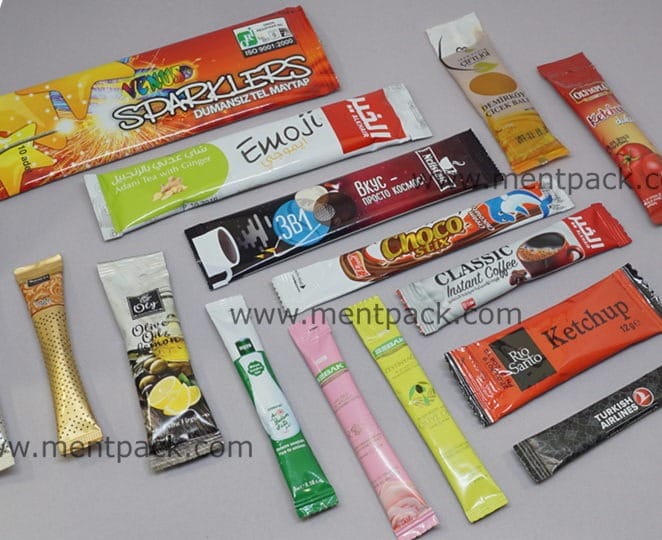 What are my advantages?
Pack length adjustment from HMI by linear servo
Film roll holder separate from mainframe
Automatic film unwind
Easy film roll changes with air shaft
Easy clean mechanical design
Serrated, line or perforating horizontal cutters
No pressure adjustment on horizontal sealers
Open frame design
Easy access to film frame
Better protection for heating cable connections
Special shape sealers and tear notch
User-friendly controls
Worldwide branded components
Spare parts catalogue
10 years plc & hmi software warranty
I/O test manual facility
Clean horizontal cutting without tearing
Easy knife changeover
Centralized volume adjustment
Long-life rotary cylinder
Auto synchronization granule filler to machine speed
No product bridging with multi-fill feature
What can I pack?
Sugar
Salt
Black pepper
Freeze dried coffee
Agglomerated coffee
Coffee creamer
Cannabis powder
How fast I am?
Sugar: 65 cycle
Salt: 70 cycle
Black pepper: 50 cycle
Freeze dried coffee: 40 cycle
Agglomerated coffee: 30 cycle
Coffee creamer: 30 cycle
Cannabis powder: 40 cycle
Technical details
Min. pack width: 17mm.
Max. pack width: 45mm.
Min. pack length: 50mm.
Max. pack length: 160mm.
Max. roll width: 1000mm.
Energy consumption: 1,5 kW/h
Air pressure: 6-8 BarAir consumption: 550 liter/min.
Electricity : 1P+N+PE 220 VAC/110VAC
Weight: 750 kg.
* Above information can vary according to product type, project details and special occasions.