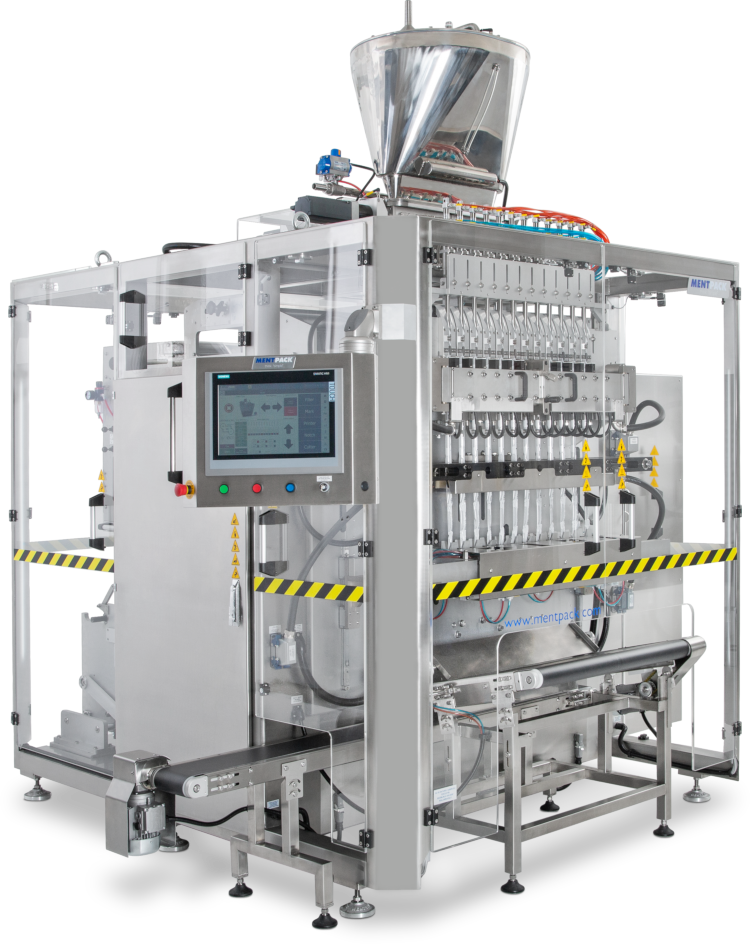 The most advanced stick pack machine with liquid filler is designed for 3-shift running factories. It's able to fill low to high viscous liquids, for instance, oil, ketchup stick pack, mayonnaise, tomato paste, cream chocolate, sauces, cosmetic liquids, shampoo, CBD oil into stick packs up to 12 lines with minimum 17 mm width. It's the most advanced stick pack machine with liquid filler. Cutting edge motion control technology and servo driven flexibility bringing uninterrupted manufacturing and highest diagnosis possibilities.
We designed our stick pack liquid fillers for high speed and high accuracy filling without any drop or leaking problems. Servo driven piston pump with shut-off nozzles made with years of experience giving the best accuracy with zero-leaking. Because of long-lasting custom made gasket set in the actuator lasts up to 30 days at 3 shift running. Easy gasket changes shorter the downtime of maintenance and CIP-Ready or CIP Cleaning options creates the efficiency for faster cleaning the companies which do not have CIP rooms.
Above all, premium and tested brands are coming with Mentpack machines as standard. Free of charge remote connection technical support provides comfort for factory maintenance team and operators. Our liquid stick pack machine has web width is 1200 mm max. and up to 70-80 cycles/minute speed.
think "simple" features of liquid stick pack packaging machine
Highly reduced downtime by 180-degree rotating vertical sealers for cleaning.
Reduced height of the machine thanks to new forming collars of stick packs.
Techno-polymer forming collars create the best fin seal folding for stick pack.
Tool-less change for slitting blades & easy access on the stick pack machine.
Non-drip nozzle shut-off gasket changeover tool-less and without removing the nozzle.
What are my advantages?
Widely opening vertical sealers for easy cleaning
Unique extended life knife design
All motions fully synchronized with the speed
Absence of sachet burning when stopped
Easy and precise sealing pressure adjustment
Bespoke sealing shapes
Bespoke stick pack shapes
Horizontal perforation
Tear notch
User-friendly controls
Worldwide branded components
Spare parts catalogue10 years plc & hmi software warranty
I/O test manual facility
Servo motor liquid pump (0.01mm precision – 100mm/sec speed)
Maximum volume precision in a single piece actuator
Food grade quick release fittings
Teflon tubes
Actuator heating on double-jacket filling system
What can I pack?
Ketchup
Mayonnaise
Mustard
Honey
Pomegranate sauce
Shampoo
Hair Gel
Gel Soap
Cream Chocolate
CBD Oil
How fast I am?
Ketchup: 50 cycle
Mayonnaise: 50 cycle
Mustard: 50 cycle
Honey: 35 cycle
Pomegranate sauce: 50 cycle
Shampoo: 55 cycle
Hair gel: 60 cycle
Liquid soap: 55 cycle
Technical details
Min. pack width : 20mm.
Max. pack width: 55mm.
Min. pack length: 10mm.
Max. pack length: 180mm.
Max. roll width : 1000mm.
Energy consumption : 5,5 kW/h
Air pressure : 6-8 Bar
Air consumption : 450 liter/min.
Electricity : 3P+N+PE 220 VAC/110VAC
Weight: 2400kg
* Above information can vary according to product type, project details and special occasions.